Compte tenu de la situation actuelle, les expéditions de vos commandes se poursuivent. Toutefois, les collectes, les dépôts et la distribution des colis par les services postaux ne se font plus que le mercredi, jeudi et vendredi, allongeant les délais de livraison de plusieurs jours. ATTENTION SUSPENSION DES LIVRAISONS POUR LES CODES POSTAUX SUIVANTS : 92110, 92200, 92230, 92250, 92270, 92300, 92390, 92400, 92600, 92700, 92800, 93200, 93210, 93240, 93380, 93430, 93450, 93800, 94320.

Buki France
Founded in 1992, today Buki France is a major player in the toy industry. In its offices in Le Mans, Buki France invents, designs, develops and tests its games both educational and fun. The team works in close collaboration with designers, illustrators, and scientists to offer scientific, culinary, and ever more creative and fun games and toys!
The leader in scientific games, Buki France has forged itself a solid reputation by finding innovative ways to educate children. Inseparable elements of the kits, characters Leo and Lea accompany children through experiments and activities.

Head office

Buki France
22 rue du 33ème Mobiles
72000 Le Mans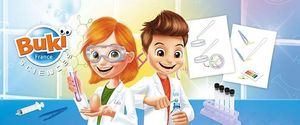 ---
Customer reviews
to help you better choose
Fast shipping
within 48 hours in worldwide