Compte tenu de la situation actuelle, les expéditions de vos commandes se poursuivent. Toutefois, les collectes, les dépôts et la distribution des colis par les services postaux ne se font plus que le mercredi, jeudi et vendredi, allongeant les délais de livraison de plusieurs jours. ATTENTION SUSPENSION DES LIVRAISONS POUR LES CODES POSTAUX SUIVANTS : 92110, 92200, 92230, 92250, 92270, 92300, 92390, 92400, 92600, 92700, 92800, 93200, 93210, 93240, 93380, 93430, 93450, 93800, 94320.
Alilo
Alilo Bunnies is a family of interactive toys that have been created to support the development of babies, preschoolers and first graders. Thanks to their many useful functions, they entertain, tell stories, and make it easier for your child to fall asleep after an eventful day.
Honey Bunny is the original member of the Alilo family and has already been sold millions of times worldwide. This popular media companion has been designed especially for children.

Head office

Alilo Deutschland
GL Service GmbH
Marie Curie Straße 9
50259 Pulheim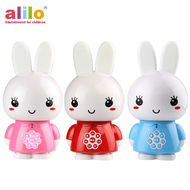 ---
Customer reviews
to help you better choose
Fast shipping
within 48 hours in worldwide