Amazonas Baby World
Amazonas Baby World : The best products for a natural handling of your baby.
The biggest challenge in product development has been the nature and millennia-old traditions of uniting the physical and emotional needs of a newborn baby and everyday life in one product.
For all parents, who increasingly want to replace the conventional baby bed in the future with the back-friendly and ergonomically advantageous hammock, Amazonas Baby World has developed special hammocks and feather pens for babies.
These baby hammocks combine all the benefits of a normal hammock with the special needs for baby safety and protection. At the same time, they are compatible with modern living, increased mobility and flexibility as well as a strong need for protection and security of the parents.

Head office

Amazonas GmbH

Am Kirchenhölzl 15
82166 Gräfelfing
Allemagne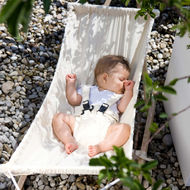 ---
Products Amazonas Baby World
Customer reviews
to help you choose
Fast shipping
within 48 hours worldwide
Lesjouetsenbois.com specialises in high-quality wooden toys at affordable prices ranging from gifts for newborn babies to the most famous children's games, as well as games and toys for all your parties (birthdays, Easter, Halloween, Christmas, Santa's gifts, etc.). What's more, we offer early learning and educational toys, outdoor games and board games, all with fast delivery guaranteed.
© Les jouets en bois - All rights reserved 2007-2023