Compte tenu de la situation actuelle, les expéditions de vos commandes se poursuivent. Toutefois, les collectes, les dépôts et la distribution des colis par les services postaux ne se font plus que le mercredi, jeudi et vendredi, allongeant les délais de livraison de plusieurs jours. ATTENTION SUSPENSION DES LIVRAISONS POUR LES CODES POSTAUX SUIVANTS : 92110, 92200, 92230, 92250, 92270, 92300, 92390, 92400, 92600, 92700, 92800, 93200, 93210, 93240, 93380, 93430, 93450, 93800, 94320.

Argo4
Born on the shores of two lakes, Lake Garda and Lake Iseo, Arianna Moretti and Sara Marzi met at Polytechnic of Milan at the Faculty of Architecture. They started a productive collaboration that soon became a strong friendship.
In 2018 they set up a Start Up under the name of Argo4 Srl. Argo4's mission is to create a unitary and recognizable brand with a comprehensive approach to design: from concept to prototype, from graphic image to marketing. Thanks to an academic background that ranges from architecture to archaeology, from interior design to graphic, Argo4 wants to give to its products a renewed and enriched design both in terms of image and functionality. Curious about the world, they are inspired by nature and essential shapes. Study of innovative solutions and research of materials are the basis of their work, with a particular attention to the world of children.

Head office

Argo4 Srl

Via Aldo moro 44

25124 Brescia, Italie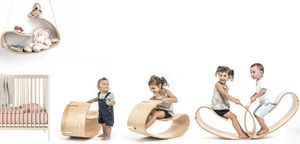 ---
Customer reviews
to help you better choose
Fast shipping
within 48 hours in worldwide