Compte tenu de la situation actuelle, les expéditions de vos commandes se poursuivent. Toutefois, les collectes, les dépôts et la distribution des colis par les services postaux ne se font plus que le mercredi, jeudi et vendredi, allongeant les délais de livraison de plusieurs jours. ATTENTION SUSPENSION DES LIVRAISONS POUR LES CODES POSTAUX SUIVANTS : 92110, 92200, 92230, 92250, 92270, 92300, 92390, 92400, 92600, 92700, 92800, 93200, 93210, 93240, 93380, 93430, 93450, 93800, 94320.

B.Toys
Immerse yourself in the world of B.Toys: musical instruments to participate in the musical awakening of children from 2 years old, imitation games with unconventional design or early-learning toys full of charm. B.Toys offers toys with a look, colors and packaging totally different and often unexpected!
B.Toys is also committed to the planet and its children by using soy-based inks, water-based varnishes, recyclable or recycled materials, reversible packages that can become gift wrappers ...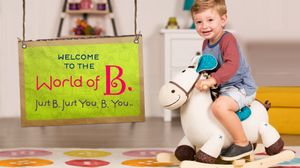 ---
1
Customer reviews
to help you better choose
Fast shipping
within 48 hours in worldwide