Compte tenu de la situation actuelle, les expéditions de vos commandes se poursuivent. Toutefois, les collectes, les dépôts et la distribution des colis par les services postaux ne se font plus que le mercredi, jeudi et vendredi, allongeant les délais de livraison de plusieurs jours. ATTENTION SUSPENSION DES LIVRAISONS POUR LES CODES POSTAUX SUIVANTS : 92110, 92200, 92230, 92250, 92270, 92300, 92390, 92400, 92600, 92700, 92800, 93200, 93210, 93240, 93380, 93430, 93450, 93800, 94320.

BAMBAM
BAM BAM, chic and trend gifts for babies from 0 to 1 year! BAM BAM creates innovative and trends products, always at affordable prices.
For BAM BAM, birth remains an important and happy event. Each product must be a welcome gift for the baby and an affection for parents. Everyone should find an original gift, useful, decorative, unusual or quirky fun for baby. BAM BAM offers classic gift boxes with toys, soft toys or clothes but also the first games to be stacked or built. But the catalog contains more personalized gifts like the box to make the imprint of the hand or foot baby.
BAM BAM, the certainty to offer and have fun.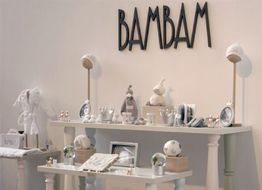 ---
1
Customer reviews
to help you better choose
Fast shipping
within 48 hours in worldwide