Compte tenu de la situation actuelle, les expéditions de vos commandes se poursuivent. Toutefois, les collectes, les dépôts et la distribution des colis par les services postaux ne se font plus que le mercredi, jeudi et vendredi, allongeant les délais de livraison de plusieurs jours. ATTENTION SUSPENSION DES LIVRAISONS POUR LES CODES POSTAUX SUIVANTS : 92110, 92200, 92230, 92250, 92270, 92300, 92390, 92400, 92600, 92700, 92800, 93200, 93210, 93240, 93380, 93430, 93450, 93800, 94320.

Bullyland
Hi kids, welcome to the world of Bullyland!
The famous brand of figurines is based in Cologne. In order to obtain particularly realistic figures, the production process is precise and complex. You will be impressed and surprised by the fine details and the hard work behind the play figures BULLYLAND. It is through work modeling the precise hand made by highly skilled artists with wax Bullyland makes these figures so successful. Enjoy!

Head office

BULLYLAND GmbH

Bully-Straße 1

73565 Spraitbach, Deutschland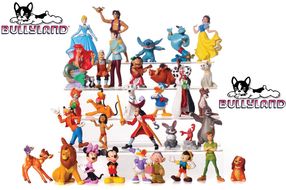 ---
Customer reviews
to help you better choose
Fast shipping
within 48 hours in worldwide