Doudou et Compagnie
The story of Doudou et Compagnie begins 15 years ago in France when Alain Joly, fascinated by the experiences of early childhood, imagined a world overflowing with tenderness and comforting doudous.
From the first doudou without stuffing to the Angel in the hand doudo, through organic and natural blanket, tattooed doudou or doudou puppet, the Doudou et Compagnie collection continues to grow, for the greatest pleasure of all.
Always holding on to its experience and french know-how, Doudou et Compagnie builds on its original values; creativity and innovation, quality and safety. A great team with ten designers passionate about their craft, work every day to bring joy and fascination to little ones while creating the most beautiful doudous of tomorrow.

Head office

Groupe Doudou et Compagnie

Rue Nadar

95320 Saint Leu la Foret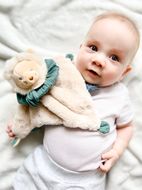 ---
Customer reviews
to help you choose
Fast shipping
within 48 hours worldwide
© Les jouets en bois - All rights reserved 2007-2023