Allongement des délais de livraison par voie maritime : 18 jours pour les Antilles, 26 jours pour la Guyane, 28 jours pour la Réunion, 48 jours pour Mayotte, 2 mois pour la Nouvelle Calédonie.

Franck & Fischer
FRANCK & FISCHER is a Danish design concept, founded in 2005 by designer Annemarie Franck and business economist Charlotte Fischer. Danish Design has always had a certain ring to it. In every part of the world it's synonymous with unique design, pure style and high quality, and, of course, FRANCK & FISCHER's products are no exception. Each product is carefully manufactured with a lot of focus on details, to ensure that functionality and high play value go hand in hand with an appealing design.
FRANCK & FISCHER produces organically whenever possible. All colours meet the OEKO-TEX 100 standard and all wood is from plantation forest or MDF1 which means no harmful chemicals in the glue and an environmental approach in production. The very core of this collection is cute looking figures of animals. They come from as different places as farms, jungles, the Arctic regions and the sea.
When FRANCK & FISCHER says 'Design for kids – made with care' it's not just empty words. They really mean something. For them, obviously, but also for us :-)

Head office

FRANCK & FISCHER ApS

Grusbakken 18
2820 Gentofte, Denmark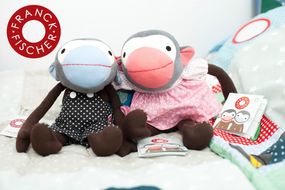 ---
Customer reviews
to help you better choose
Fast shipping
within 48 hours in worldwide