Compte tenu de la situation actuelle, les expéditions de vos commandes se poursuivent. Toutefois, les collectes, les dépôts et la distribution des colis par les services postaux ne se font plus que le mercredi, jeudi et vendredi, allongeant les délais de livraison de plusieurs jours. ATTENTION SUSPENSION DES LIVRAISONS POUR LES CODES POSTAUX SUIVANTS : 92110, 92200, 92230, 92250, 92270, 92300, 92390, 92400, 92600, 92700, 92800, 93200, 93210, 93240, 93380, 93430, 93450, 93800, 94320.

Fridolin
It began in 1985 with a toy shop in Herrenberg, a smallish city in southern Germany at the edge of the Black Forest. Then Fridolin decides to create its own production company. It followed a fruitful co-operation with various artists from Germany and abroad. Some of them already had established their reputation in their respective fields. Today, their product range harmoniously combines art, games, presents and modern design.
Come discover their superb wooden brainteasers that will certainly make you think a lot ... Will you be able to rebuild them?

Head office

Fridolin GmbH
Rigipsstraße 15
D-71083 Herrenberg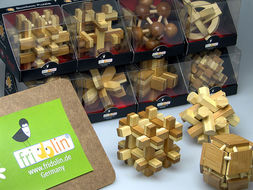 ---
Customer reviews
to help you better choose
Fast shipping
within 48 hours in worldwide