Compte tenu de la situation actuelle, les expéditions de vos commandes se poursuivent. Toutefois, les collectes, les dépôts et la distribution des colis par les services postaux ne se font plus que le mercredi, jeudi et vendredi, allongeant les délais de livraison de plusieurs jours. ATTENTION SUSPENSION DES LIVRAISONS POUR LES CODES POSTAUX SUIVANTS : 75008, 75017, 75018, 91160, 91200, 91260, 91300, 91320, 91420, 91430, 91550, 91973 92110, 92120, 92140, 92160, 92170, 92200, 92220, 92230, 92240, 92250, 92260, 92270, 92290, 92300, 92320, 92330, 92340, 92350, 92390, 92400, 92600, 92700, 92800, 93200, 93210, 93240, 93380, 93430, 93450, 93800, 94110, 94150, 94230, 94240, 94250, 94260, 94290, 94310, 94320, 94320, 94390, 94480, 94550.

Gigamic
The board game is not only intended for children, teenagers, adults, beginners or enthusiasts can discover a playful and exciting universe.
The French company Gigamic publishes and distributes games and puzzles around the world (more than 50 countries) for more than twenty years. Gigamic offers original and varied products: puzzle game, board game, card game, mood game, board game for children, etc. Its aim is to satisfy all players, from the smallest to the oldest , And to offer them unforgettable moments thanks to games of quality with the original concepts.
Gigamic publishes games recognized throughout the world and also offers French versions of the best games of foreign publishers. Who does not know Pique feather that makes the memory work and that requires a great concentration around a plucking race? Not to mention Halli Galli, Bizarre Bazaar, Gloobz and Crazy cups the best game of speed and observation but also Quarto one of the most awarded games in the world, Quoridor, Win your dad, Wazabi, etc. There is a board game for all cravings.
Why choose a Gigamic board game?
Choosing Gigamic means having the confidence to be able to choose from a multitude of quality games whether you want to make a gift, have fun with family or friends, think, challenge yourself, learn. From the board game for children to the game of atmosphere by way of puzzles, educational games, board games, card games or puzzles, games in boix etc ... Everyone can find the game that suits him . The collections of games are regularly renewed in order to present the latest innovations to players' communities. Gigamic products are all of excellent quality, from design to final material.
The board game is ideal to offer as a gift, it is a box of happiness!

Head office

Gigamic

Z.A.L. les Garennes
62 930 Wimereux

France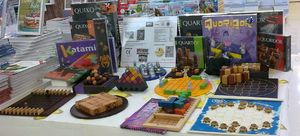 ---
Customer reviews
to help you better choose
Fast shipping
within 48 hours in worldwide