Allongement des délais de livraison par voie maritime : 18 jours pour les Antilles, 26 jours pour la Guyane, 28 jours pour la Réunion, 48 jours pour Mayotte, 2 mois pour la Nouvelle Calédonie.

Happy Horse
Happy Horse, is one of the first creators of stuffed animals and soft cuddly toys. For more than 50 years, Happy Horse has offered a collection of quality plush animals and accessories, in attractive colors, and has developed a real know-how recognizable among many others!
Choosing a Happy Horse soft toy for your child is sure to make one of their first love stories and give them a smile, happiness and comfort.

Head office

Happy Horse BV

Stationsweg 27
2312 AT LEIDEN
The Netherlands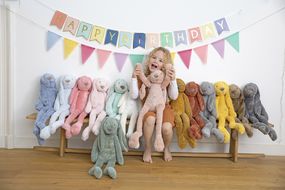 ---
Customer reviews
to help you better choose
Fast shipping
within 48 hours in worldwide