Compte tenu de la situation actuelle, les expéditions de vos commandes se poursuivent. Toutefois, les collectes, les dépôts et la distribution des colis par les services postaux ne se font plus que le mercredi, jeudi et vendredi, allongeant les délais de livraison de plusieurs jours. ATTENTION SUSPENSION DES LIVRAISONS POUR LES CODES POSTAUX SUIVANTS : 92110, 92200, 92230, 92250, 92270, 92300, 92390, 92400, 92600, 92700, 92800, 93200, 93210, 93240, 93380, 93430, 93450, 93800, 94320.

In2wood
Matthieu Meert is a Belgian designer who designs, develops and manufactures each piece of the In2wood children's furniture collection. We love his creations: eco-friendly, colorful children's furniture, especially designed for children.
The In2Wood collections are perfectly keyed to a nomadic lifestyle. Beautiful in their simplicity, the pieces are simple to move about, allowing you to easily adapt their new function to your interior needs.

Head office

In2wood
Hogebrug 28
9280 Denderbelle
Belgium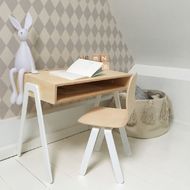 ---
Customer reviews
to help you better choose
Fast shipping
within 48 hours in worldwide