JaBaDaBaDo
JaBaDaBaDo is a Swedish design company that manufactures wooden toys, furnitures and decorations for kids rooms. These products combine Scandinavian design with a fun and playful heart with unique patterns and contemporary colors.
The company is a family business founded in 1993 by the spouses Eva and Calle. They share a passion for designed and handcrafted childrens toys and decorations.
All JaBaDaBaDo products are designed in-house and produced with carefully selected materials of highest quality. A large part of the collection is made of natural materials such as wood and cotton. Materials that will satisfy parents requests for quality and make the toys last for the next generation to cherish and love.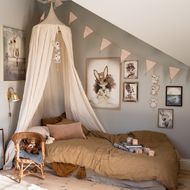 ---
1
Customer reviews
to help you choose
Fast shipping
within 48 hours worldwide
© Les jouets en bois - All rights reserved 2007-2023