Allongement des délais de livraison par voie maritime : 18 jours pour les Antilles, 26 jours pour la Guyane, 28 jours pour la Réunion, 48 jours pour Mayotte, 2 mois pour la Nouvelle Calédonie.

Kaloo
Once upon a time… A father's dream to invent different soft toys for his little boy. A little bear, an emotional symbol for all toddlers, was then chosen as the brand's emblematic animal. Because dreams can come true, Kaloo came to life one beautiful morning in late 1998. For more than 16 years the Kaloo brand has been specializing in soft toys and bedding accessories. Kaloo is now present in nearly 40 countries.
Kaloo, a French story made of passion, love and dreams, to offer our little ones a soft and enchanting world that would meet their needs in terms of learning, health and safety. Special attention is paid to the material, ensuring quality of touch and color harmony – the brand signatures. Once arranged in their round gift boxes, a Kaloo soft toy just has to wait for a baby's arms. Beautiful gift boxes and soft tags, all these details are the sign of the special attention that Kaloo brings to his creations.

Head office

Kaloo France

85 rue Armand Lunel

Les Allées Provençales

13100 AIX-EN-PROVENCE, France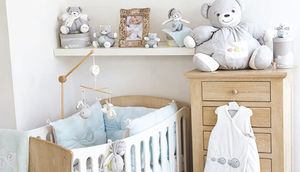 ---
Customer reviews
to help you better choose
Fast shipping
within 48 hours in worldwide