Compte tenu de la situation actuelle, les expéditions de vos commandes se poursuivent. Toutefois, les collectes, les dépôts et la distribution des colis par les services postaux ne se font plus que le mercredi, jeudi et vendredi, allongeant les délais de livraison de plusieurs jours. ATTENTION SUSPENSION DES LIVRAISONS POUR LES CODES POSTAUX SUIVANTS : 92110, 92200, 92230, 92250, 92270, 92300, 92390, 92400, 92600, 92700, 92800, 93200, 93210, 93240, 93380, 93430, 93450, 93800, 94320.

Kids Corner
Kids Corner is a brand that offers decorative items for children's room and a wide range of hand puppets, pop up puppets and wooden theaters to make real little shows.
The Anima Scena range, dedicated to drama, contains hand or pop up puppets but also theaters and scenario books. Kids Corner found an expertise ofmore than a century, in Czech Republic, for the manufacture of soft puppets. It is this unique handicrafts that are born all the characters and animals range Anima Scena.

Head office

Le Coin Des Enfants
La Seiglerie
44270 Machecoul
France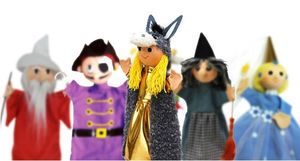 ---
Customer reviews
to help you better choose
Fast shipping
within 48 hours in worldwide