Compte tenu de la situation actuelle, les expéditions de vos commandes se poursuivent. Toutefois, les collectes, les dépôts et la distribution des colis par les services postaux ne se font plus que le mercredi, jeudi et vendredi, allongeant les délais de livraison de plusieurs jours. ATTENTION SUSPENSION DES LIVRAISONS POUR LES CODES POSTAUX SUIVANTS : 92110, 92200, 92230, 92250, 92270, 92300, 92390, 92400, 92600, 92700, 92800, 93200, 93210, 93240, 93380, 93430, 93450, 93800, 94320.

Koa Koa
Koa Koa designs DIY kits - "Do It Yourself" - for young inventors between 6 and 10 years old. With these kits, children make their own toys to discover mechanics and science. 
Koa Koa offers an expedition, a journey to the heart of the world of objects. Each kit is an invitation to unravel the mysteries of a mechanism, usually hidden in sealed boxes! 
All Koa Koa kits are manufactured in the European Union and assembled by an ESAT (Center for disabled workers) in Normandy (France). 
Stimulate the curiosity and invention of your children with kits inspired by the Maker movement.

Head office

Koa Koa

47 rue Charles Nodier

93310 Le Pré Saint Gervais

France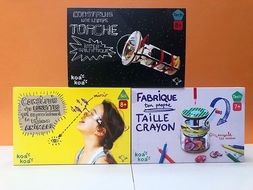 ---
Customer reviews
to help you better choose
Fast shipping
within 48 hours in worldwide