Compte tenu de la situation actuelle, les expéditions de vos commandes se poursuivent. Toutefois, les collectes, les dépôts et la distribution des colis par les services postaux ne se font plus que le mercredi, jeudi et vendredi, allongeant les délais de livraison de plusieurs jours. ATTENTION SUSPENSION DES LIVRAISONS POUR LES CODES POSTAUX SUIVANTS : 92110, 92200, 92230, 92250, 92270, 92300, 92390, 92400, 92600, 92700, 92800, 93200, 93210, 93240, 93380, 93430, 93450, 93800, 94320.

Lanco Toys
Lanco Toys is a family business from Barcelona dedicated to the design and manufacture of 100% natural rubber toys since 1952. All their toys are made of 100% pure natural rubber from the Hevea tree.
Quality is the main driver and it's present all along their production process resulting in a unique product free of PVC, BPA,Nitrosamines and Phthalates and being hand-painted with food grade dyes. Another differentiation aspect of their toys is that all the production process is strictly made by hand, from the moulds to the decoration, therefore each product is unique and original fruit of an artisanal work. 
Last but not least, their production system and raw materials respond to a ecologic and environmentally friendly mindset, resulting in an ecologic product completely natural and biodegradable.

Head office

Barcelone, Espagne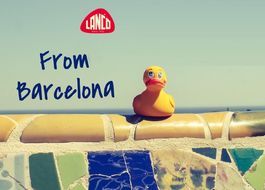 ---
1
Customer reviews
to help you better choose
Fast shipping
within 48 hours in worldwide