Lilliputiens
Lilliputiens is the story of two ''Made in Belgium'' enthusiasts.
Created in 1995 by two friends, the brand has embarked on a quest to create the very best soft toys. Mission accomplished! Today, the Lilliputiens family really has grown, and continues to astonish with its colour pallets, range of materials and its universe populated with fantastically endearing characters who delight children.
In order to create the new IT-toys, Lilliputiens has a whole team of dynamic & trendy Wonderwomen! This creative cell with a high maternal potential knows what's needed to bring children''s dreams into toys! It's that "mummy touch" that is the essence of the Lilliputiens toys that leave children wide-eyed in wonder.
In Lilliputiens' world full of little wonders, every toy has its own fun story. Lilliputiens' numerous mascots each have their own magical universe. Soft materials and disarming characters engender trust, while the many shapes, colors, noises,... will continuously challenge a child's inquisitive spirit. A fun and high-quality way to learn. If you're looking for stimulating, heartwarmingly attractive and completely safe toys, for little pieces full of wonders filling even you with pleasure, Lilliputiens has got it!
Walter the dragon, Simon the hedgehog, Arnold the hippo... They are all part of the wonderful world of Lilliputiens: an original collection of toys in contemporary colors, attractive shapes and cuddly fabrics. All our toys have that little extra something, they manage to tempt you, amaze you and challenge you. They stimulate creativity, motor skills, role play, and more. They let children discover the world around them in a playful and educationally responsible manner.
Welcome to a world of discoveries and early learning where creativity is king!

Head office

Lilliputiens S.A.

Avenue Henri Zaman, 3A

1480 Saintes, Belgique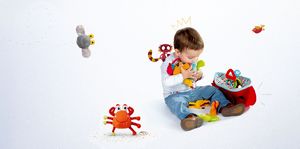 ---
Customer reviews
to help you choose
Fast shipping
within 48 hours worldwide
© Les jouets en bois - All rights reserved 2007-2023