Lulujo
With Lulujo Baby, discover baby nappies with comforting fabrics that moms and children love. Lulujo is where traditional and modern meet. Their unique collections have touched the hearts of families with our signature colours, on-trend prints, and ultra soft premium textiles.
Lulujo is best known for their top-selling blankets made with premium muslin. From the multi-functional muslin blanket to the Childhood Blanket, their products are made with high quality cotton and bamboo blends that will make you and your baby feel warm, cozy, and secure.
Lulujo stand proudly behind all of their products. Each are personally designed, tested, and used, and they always keep in mind the safety of children and the needs of families as they grow. Make Lulujo part of your everyday for you and your baby !

Head office

Lulujo

334 Queen Street, Suite 206
Fredericton, New Brunswick
E3B 1B2
Canada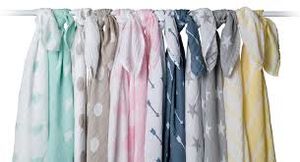 ---
1
Customer reviews
to help you choose
Fast shipping
within 48 hours worldwide
© Les jouets en bois - All rights reserved 2007-2023