Compte tenu de la situation actuelle, les expéditions de vos commandes se poursuivent. Toutefois, les collectes, les dépôts et la distribution des colis par les services postaux ne se font plus que le mercredi, jeudi et vendredi, allongeant les délais de livraison de plusieurs jours. ATTENTION SUSPENSION DES LIVRAISONS POUR LES CODES POSTAUX SUIVANTS : 92110, 92200, 92230, 92250, 92270, 92300, 92390, 92400, 92600, 92700, 92800, 93200, 93210, 93240, 93380, 93430, 93450, 93800, 94320.

Mazafran
Mazafran, the brand that accompanies your child throughout his apprenticeship with fun and educational wooden games inspired by the art and culture of the Arab world.
Mazafran is a French company specializing in the design, manufacture and marketing of playful, educational and decorative wooden toys for children from birth to about twelve years old.
The founder of Mazafran was born and raised in Algeria. All her childhood memories are now a source of richness and inspiration in research and the creation of new game ideas.
Mazafran's creations draw their inspiration from the art and culture of the Arab world. These are not only games, they are also beautiful objects, robust and pleasant to handle.
Mazafran wished, through the drawing of the letters, to bring a contemporary dimension and better adapted to the universe of the child with pretty simple and colored letters.

Head office

Mazafran

BP 70030

78600 Maisons-Laffitte

France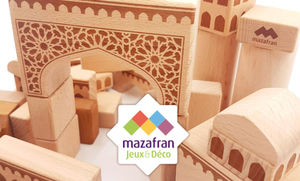 ---
Customer reviews
to help you better choose
Fast shipping
within 48 hours in worldwide