Milestone
Milestone™ makes sets of photo cards to capture and remember special moments that make you smile. The idea came from Dutch mom Gemma Broekhuis who wanted to capture the first time her son Mikkel rolled over. She wrote a card, added the date, and took a picture of her son with it. She did the same when he slept through the night, crawled, ate his first solid food, etc.
Realizing how precious those pictures were and how easy it is to forget those key moments, she decided to turn her idea into a product: Baby Cards by Milestone™.
The first sets of Baby Cards by Milestone™ were ready in May 2012. Today they are sold in 22 languages in over 40 countries with new parents enjoying them every day. 
We hope you enjoy these products and capture lots of beautiful moments. 

Head office

Milestone™

Keizersgracht 585
1017 DR Amsterdam
The Netherlands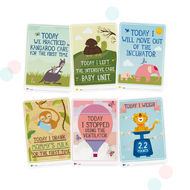 ---
Customer reviews
to help you choose
Fast shipping
within 48 hours worldwide
© Les jouets en bois - All rights reserved 2007-2023