Allongement des délais de livraison par voie maritime : 18 jours pour les Antilles, 26 jours pour la Guyane, 28 jours pour la Réunion, 48 jours pour Mayotte, 2 mois pour la Nouvelle Calédonie.
Moravská ústredna Brno
Moravská ústredna Brno is a brand that offers a wide range of hand puppets and pop up puppets to make real little shows.
Their range, dedicated to drama, contains high quality hand or pop up puppets handcrafted in the Czech Republic. Moravská ústredna Brno has an expertise ofmore than a century for the manufacture of soft puppets. It is this unique handicrafts that are born all the characters and animals range.

Head office

Mú
République tchèque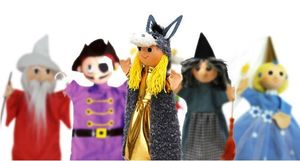 ---
Customer reviews
to help you better choose
Fast shipping
within 48 hours in worldwide