Pabobo
Different needs. Unique solutions.
Pabobo designs and markets a whole universe of lights for little ones. It's often aknowledge good sleep is a key element to good children's growth. What's sure is that a good sleeping baby makes a happy family!
Pabobo is the French company inventing night lights and sleep solutions for babies and toddlers. Inventor of the first portable and rechargeable night light, Pabobo brings innovative technologies (such as LED or micro-USB charging) in the nursery industry. Pabobo constantly innovates and creates products to enhance children's & parents well-being.
The range addresses two main needs: Bedtime, to fall asleep peacefully (lullabies projectors, mobiles) ; Sleeptime itself, at night or at naptime (night lights and luminous companions).
Pabobo offers a unique range of light solutions and sleep aids that answers all the babies and toddlers needs, night and day. That's good sleep …and happy parents!

Head office

Pabobo

18 rue du Faubourg du Temple

75011 Paris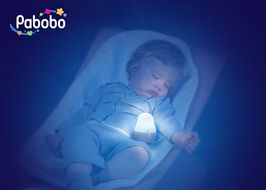 ---
1
Customer reviews
to help you choose
Fast shipping
within 48 hours worldwide
© Les jouets en bois - All rights reserved 2007-2023