Allongement des délais de livraison par voie maritime : 18 jours pour les Antilles, 26 jours pour la Guyane, 28 jours pour la Réunion, 48 jours pour Mayotte, 2 mois pour la Nouvelle Calédonie.
Pestas
Pestas, the latest generation of eco-friendly dominoes.
Pestas are colorful dominoes, comfortable to hold in hand.
Pestas dominoes are made of FSC certified birch wood, colored with natural oils and waxes, manufactured in Austria under fair working conditions. And thanks to their durable packaging, they can be stored easily until the next day of play!
Pestas are designed as a play equipment. Playing with these dominoes, the child learns: the rules of physics and geometry; the landmark in space; fine motor skills; respect for friends and sharing with them; frustration, perseverance and creativity; problem solving
As a family, in schools or toy libraries, Pestas dominoes encourage cooperative play. Come and discover the Pestas domino kits to build and enjoy the circuits and cascades of dominoes!

Head office

Pestas

1, Rue Alfred de Vigny

69800 Saint Priest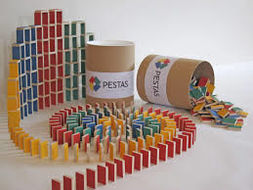 ---
Customer reviews
to help you better choose
Fast shipping
within 48 hours in worldwide