Compte tenu de la situation actuelle, les expéditions de vos commandes se poursuivent. Toutefois, les collectes, les dépôts et la distribution des colis par les services postaux ne se font plus que le mercredi, jeudi et vendredi, allongeant les délais de livraison de plusieurs jours. ATTENTION SUSPENSION DES LIVRAISONS POUR LES CODES POSTAUX SUIVANTS : 92110, 92200, 92230, 92250, 92270, 92300, 92390, 92400, 92600, 92700, 92800, 93200, 93210, 93240, 93380, 93430, 93450, 93800, 94320.

Play and Go
Play & Go is a Belgian based creative company offering clever, colourful and inspiring products for you, your kids and your home. Play & Go understand just how important fun, creative play is for kids. They love designing and crafting quality products that will make kids happy, and put a smile on everyone's face! With Play & Go you can be sure you are buying quality products that will last a long time and offer great value for money.
Play & Go is a wonderful decoration brand for children. Their first product and worldwide success is the colourful Play & Go bag. This practical bag is ideal for kids and parents as it encourages play at home or away. The Play & Go bag makes it easy to transport toys and to tidy them away.  Crafted from durable canvas and available in a range of attractive colours, this bag is also a great idea for nursery and playroom storage.
Head office

Play&Go.eu
lobeliastraat 4
8670 Koksijde
Belgium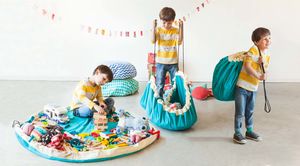 ---
Customer reviews
to help you better choose
Fast shipping
within 48 hours in worldwide