Quelle est Belle Company
Birdcalls to talk to birds...
Would you like to be able to communicate with the birds and learn to know and recognise them by their song ? You can! Because Quelle est Belle Company has created « Birds », birdcalls, small mostly wooden instruments, which reproduce the birds' songs and allow you to talk with them.
This birdcall collection is handmade by French cottage industry using natural quality materials, mainly wood (box, beech and pine) whenever possible from managed forests, leather, and metals such as brass.
Quelle est Belle Company has been creating and making birdcalls since the 1970's and is now the largest producer worldwide with a choice of more then 60 different models.

Head office

Quelle est Belle Company

26310 Beaumont en Diois

France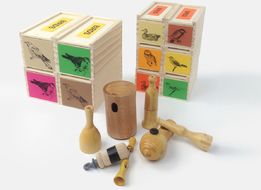 ---
Customer reviews
to help you choose
Fast shipping
within 48 hours worldwide
© Les jouets en bois - All rights reserved 2007-2023