Compte tenu de la situation actuelle, les expéditions de vos commandes se poursuivent. Toutefois, les collectes, les dépôts et la distribution des colis par les services postaux ne se font plus que le mercredi, jeudi et vendredi, allongeant les délais de livraison de plusieurs jours. ATTENTION SUSPENSION DES LIVRAISONS POUR LES CODES POSTAUX SUIVANTS : 92110, 92200, 92230, 92250, 92270, 92300, 92390, 92400, 92600, 92700, 92800, 93200, 93210, 93240, 93380, 93430, 93450, 93800, 94320.

Quercetti
It all started in the 1950s from a vision, but mostly from the sheer determination of founder, Alessandro Quercetti. Original principles of Quercetti: making toys that speak kid's language and that, more than anything else, address their natural developmental needs.
Quercetti's strength is the ample range of toys, a variety of fun playing possibilities that share a common identity based on the awareness that what really matters is them: the kids, their needs and their healthy development and growth. Thus, for Quercetti safety comes first as they manufacture all their toys according to the most closely monitored and updated international regulations. Durability, is a must too: all toys are designed to last as long as possible while never failing to entertain your children.
All Quercetti games are made in Italy.

Head office

Quercetti

Corso Vigevano, 25

10152 Torino - Italy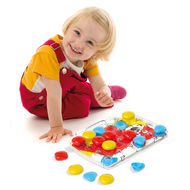 ---
Customer reviews
to help you better choose
Fast shipping
within 48 hours in worldwide