Compte tenu de la situation actuelle, les expéditions de vos commandes se poursuivent. Toutefois, les collectes, les dépôts et la distribution des colis par les services postaux ne se font plus que le mercredi, jeudi et vendredi, allongeant les délais de livraison de plusieurs jours. ATTENTION SUSPENSION DES LIVRAISONS POUR LES CODES POSTAUX SUIVANTS : 92110, 92200, 92230, 92250, 92270, 92300, 92390, 92400, 92600, 92700, 92800, 93200, 93210, 93240, 93380, 93430, 93450, 93800, 94320.

Radis et Capucine
Radis et Capucine is a french company that offers gardening kits containing all the necessary elements for apprentice gardeners wanting to start their own vegetable garden at home.
Radis et Capucine have been making for more than 15 years growing pots and gardening kits for the whole family. Grow your mini vegetables, flowers or herbs with these Radis et Capucine kit gardens that contain ready-to-grow seeds to grow aromatic herbs, tomatoes... as well as a step-by-step illustrated guide with good tips for learning how to sow seeds, grow and harvest the fruit of your work.
Vegetable kits, pots ready to grow and a fun way to learn to gardening for young and old!

Head office

Radis et Capucine

42 rue des Perreyeux

BP 50116

49803 Trélazé Cedex France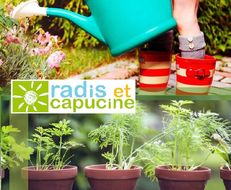 ---
Customer reviews
to help you better choose
Fast shipping
within 48 hours in worldwide