Schleich
Discover the amazing realism of the Schleich figurines and accessories!
Friedrich Schleich founded the company in 1935. The now famous Schleich figurines first came to life in the 1950's. At that time Schleich started to concentrate on the development, production and marketing of comic figurines. And they are still popular and well known: The Smurfs, Snoopy, The Muppet Show characters and many many more. Since the early 1980's Schleich added animal figurines to its range of products and consequently extended this area. The animal play worlds created over the years are a true reflection of nature on a smaller scale. Spanning from the lost world of the dinosaurs to domestic and wild animals of present times. Meanwhile, and starting in 2003, Knights, the Wild West theme and Elves have also been added to the popular Schleich Play Worlds.
The figurines are developed with the assistance of parents, teachers and children and are therefore especially designed for children's hands. The design is as realistic and naturalistic as possible. From the first sketch to decorating the figurine by hand, special attention is paid to every detail. The elves, knights and animals feel comfortable anywhere and can be taken with your child everywhere he goes. He can always take his toys with him and turn any place into a playground. That is why Schleich's motto is « Anywhere's a Playground ».

Head office

Schleich GmbH
Am Limes 69
73527 Schwäbisch Gmünd, Germany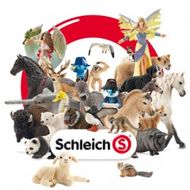 ---
Customer reviews
to help you choose
Fast shipping
within 48 hours worldwide
© Les jouets en bois - All rights reserved 2007-2023