Speelbelovend
Speelbelovend is a Dutch brand that offers an assortment of creative toys, which allow the development of the child in autonomy, as envisaged by Montessori pedagogy.
As Albert Einstein said, "Imagination is more important than knowledge". Imagination is the primary means by which children discover and explore reality. Through its range, Speelbelovend aims to stimulate children's imagination and offer them freedom of learning by offering them only the resources or tools that increase their pleasure in playing.
All Speelbelovend products are produced in a social workshop in the Netherlands and are made of FSC-certified birch wood.
In Dutch, Speelbelovend means "the game is a promise for the future".

Head office

Speelbelovend

Curaçaolaan 25
1213 VJ Hilversum, Pays Bas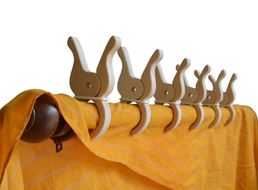 ---
Customer reviews
to help you choose
Fast shipping
within 48 hours worldwide
© Les jouets en bois - All rights reserved 2007-2023