Compte tenu de la situation actuelle, les expéditions de vos commandes se poursuivent. Toutefois, les collectes, les dépôts et la distribution des colis par les services postaux ne se font plus que le mercredi, jeudi et vendredi, allongeant les délais de livraison de plusieurs jours. ATTENTION SUSPENSION DES LIVRAISONS POUR LES CODES POSTAUX SUIVANTS : 92110, 92200, 92230, 92250, 92270, 92300, 92390, 92400, 92600, 92700, 92800, 93200, 93210, 93240, 93380, 93430, 93450, 93800, 94320.

Tactic
Tactic creator and game maker
Tactic, international group has become one of the recognized actors as a designer and manufacturer of board games in Europe in particular.
For more than forty years, Tactic, a Finnish group, has been able to build and ensure the success of strong brands and to create innovative products by introducing new trends on the market.
The vocation of Tactic,
Entertainment for all ages
Innovative concepts alongside famous classics
An excellent value for money all products combined
A good balance between games combining action, chance and strategy to always promote the desire to play and replay

Head office

Tactic France S.A. 

2 rue des Commères

78310 Coignières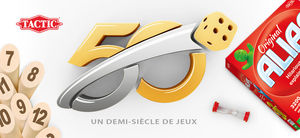 ---
Customer reviews
to help you better choose
Fast shipping
within 48 hours in worldwide