Compte tenu de la situation actuelle, les expéditions de vos commandes se poursuivent. Toutefois, les collectes, les dépôts et la distribution des colis par les services postaux ne se font plus que le mercredi, jeudi et vendredi, allongeant les délais de livraison de plusieurs jours. ATTENTION SUSPENSION DES LIVRAISONS POUR LES CODES POSTAUX SUIVANTS : 92110, 92200, 92230, 92250, 92270, 92300, 92390, 92400, 92600, 92700, 92800, 93200, 93210, 93240, 93380, 93430, 93450, 93800, 94320.

Tegu
Tegu is an American brand known for its magnetic wooden building blocks, the "Tegu Blocks", designed to develop children's thinking, dexterity, concentration and creativity. Cubes and Magnets are the base of this range of fascinating and creative wooden toys. Tegu magnetic construction games are cleverly magnetized to allow small creators to defy the laws of gravity and give free rein to their imagination. The magnets are placed in the wooden pieces, invisibly, bringing to the wooden toys Tegu purity and aesthetics.
Tegu construction games combine the familiar warmth of wooden toys with the magic of magnets, they are great magnetic games. Tegu wooden toys are produced in Honduras, in collaboration with the local population, with a strong involvement of the company in the schooling of children and a responsible and fair production of wood. The quality of the wood, combined with sober and soft colors, make toys of a very high quality made in respect of the environment and men.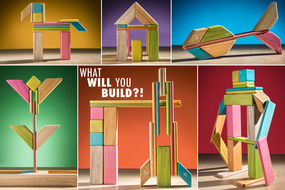 ---
Customer reviews
to help you better choose
Fast shipping
within 48 hours in worldwide