Compte tenu de la situation actuelle, les expéditions de vos commandes se poursuivent. Toutefois, les collectes, les dépôts et la distribution des colis par les services postaux ne se font plus que le mercredi, jeudi et vendredi, allongeant les délais de livraison de plusieurs jours. ATTENTION SUSPENSION DES LIVRAISONS POUR LES CODES POSTAUX SUIVANTS : 92110, 92200, 92230, 92250, 92270, 92300, 92390, 92400, 92600, 92700, 92800, 93200, 93210, 93240, 93380, 93430, 93450, 93800, 94320.

Trigonos
Trigonos, build on your imagination !
Trigonos conceive and produce educational toys made of wood addressed to the personal growth of every child.
Trigonos is versatile, interactive and evolving and it awakes the insatiable curiosity of kids. What children will not build a cabin, a labyrinth or a super nook to hide in? Kids have great fun with Trígonos construction games while they can't stop assembling and disassembling houses, castles or caves. Almost without noticing, they learn subjects such as mathematics and physics. While the kid is thrilled with joining sticks and blocks to create structures which can become cabins, labyrinths, shelters, bridges, shops and much more, he or she keeps learning concepts such as proportions, distances, volumes, angles…
A creative game using building for children aged 4-10, and for those over 10, 20, 40...and 80 !
Head office

Trigonos

Espagne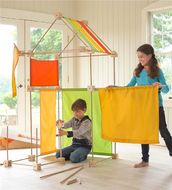 ---
1
Customer reviews
to help you better choose
Fast shipping
within 48 hours in worldwide