Compte tenu de la situation actuelle, les expéditions de vos commandes se poursuivent. Toutefois, les collectes, les dépôts et la distribution des colis par les services postaux ne se font plus que le mercredi, jeudi et vendredi, allongeant les délais de livraison de plusieurs jours. ATTENTION SUSPENSION DES LIVRAISONS POUR LES CODES POSTAUX SUIVANTS : 92110, 92200, 92230, 92250, 92270, 92300, 92390, 92400, 92600, 92700, 92800, 93200, 93210, 93240, 93380, 93430, 93450, 93800, 94320.

Trybike
Pim and Alex are two brothers and crazy about cycling. They come from the Netherlands, where almost everyone has one or two bikes. Besides enthusiastic cyclists, they have been already for 10 years importing loads of fun toys, especially ones with wheels, including balance bikes.
In 2015, they started developing their own balance bike, applying all of their knowledge as toy sellers and cyclists during the process. They had great fun designing the perfect balance bike: durable, designed to last, and, to top it all, darned good-looking to boot! The result: the Trybike, which is exactly the kind of bike we would have loved to have had as kids.

Head office

Co&Co BV
Koning Lodewijklaan 40c
7314 GG, Apeldoorn
The Netherlands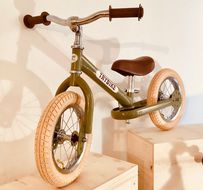 ---
Customer reviews
to help you better choose
Fast shipping
within 48 hours in worldwide