Allongement des délais de livraison par voie maritime : 18 jours pour les Antilles, 26 jours pour la Guyane, 28 jours pour la Réunion, 48 jours pour Mayotte, 2 mois pour la Nouvelle Calédonie.

Vulli
Founded in 1945 and specializing in mechanical toy, the Vulli company has become over the years a renowned specialist in the world of childcare and first age toy. For over 60 years, Vulli designs and creates products for the various stages of child development.
The famous Sophie the Giraffe, who was born a May 25 of 1961 (the day of St. Sophia), is still manufactured in the workshops of the Vulli company, located in Rumilly in the Haute-Savoie (France).
Symbol par excellence of the first awakening toy Sophie the Giraffe is a must and has a real side of love to all parents and all children. It is the undisputed star of toddlers!
Head office

Vulli

1 Avenue des Alpes

74150 Rumilly - France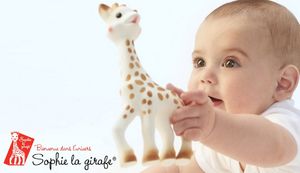 ---
Customer reviews
to help you better choose
Fast shipping
within 48 hours in worldwide