Allongement des délais de livraison par voie maritime : 18 jours pour les Antilles, 26 jours pour la Guyane, 28 jours pour la Réunion, 48 jours pour Mayotte, 2 mois pour la Nouvelle Calédonie.

Waytoplay
The flexible toy road. Dutch Design, Made in Germany.
Waytoplay was founded in 2003 by Sybren Jelles, a lover of toy cars. This Dutch inventor and designer then has joined forces with a state of the art manufacturer in Germany. Creating the unbreakable, weatherproof road set that is waytoplay.
Waytoplay is more than a toy, it is a Dutch Design original. Each set features easy to connect road segments. Straights, curves, parking spaces, roundabouts, junctions and more. Made of high grade, child safe rubber, simply roll out an adventure anywhere and anytime. Indoors and out! The beach, deep pile carpet or that bumpy garden path, turn any place into your waytoplay. The open ended sets can be added to, for endless fun. Let your child find its way to play and become king of the road.

Head office

Waytoplay Toys b.v.
Lange Herenstraat 32 zwart
2011 LJ Haarlem
PAYS BAS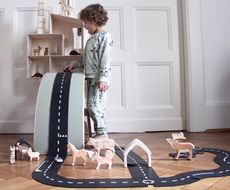 ---
1
Customer reviews
to help you better choose
Fast shipping
within 48 hours in worldwide