Compte tenu de la situation actuelle, les expéditions de vos commandes se poursuivent. Toutefois, les collectes, les dépôts et la distribution des colis par les services postaux ne se font plus que le mercredi, jeudi et vendredi, allongeant les délais de livraison de plusieurs jours. ATTENTION SUSPENSION DES LIVRAISONS POUR LES CODES POSTAUX SUIVANTS : 92110, 92200, 92230, 92250, 92270, 92300, 92390, 92400, 92600, 92700, 92800, 93200, 93210, 93240, 93380, 93430, 93450, 93800, 94320.

Wobbel
Wobbel balance board: the wooden toy that moves young and old.
Wobbel is a Dutch brand which offers a trendy and playful product, inspired by the Waldorf schools. The attention to design and the robustness of the materials used make this balance board a unique item that opens up endless possibilities!
Wobbel boards are made of beech wood that comes from strictly controlled European FSC certified plantations, where replanting is guaranteed. The bottom of the Wobbel boards is covered with EKO wool felt made from the best available natural felt from a local supplier. It is colored by nature.
All Wobbels are manufactured in Europe and finished in the Netherlands. After quality control, they leave from Wobbel workshop in Amersfoort, where Wobbel team work with people who are at a distance from the labor market.
The Wobbel invites young and old : move, balance, teamwork and rest. Because of the timeless design and the many possibilities, the Wobbel is an invitation for everyone to grow.

Head office

Wobbel BV

Grebbestraat 38

3812JE Amersfoort, The Netherlands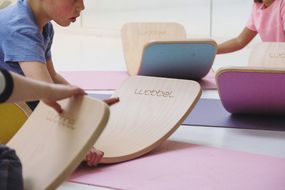 ---
Customer reviews
to help you better choose
Fast shipping
within 48 hours in worldwide