Compte tenu de la situation actuelle, les expéditions de vos commandes se poursuivent. Toutefois, les collectes, les dépôts et la distribution des colis par les services postaux ne se font plus que le mercredi, jeudi et vendredi, allongeant les délais de livraison de plusieurs jours. ATTENTION SUSPENSION DES LIVRAISONS POUR LES CODES POSTAUX SUIVANTS : 92110, 92200, 92230, 92250, 92270, 92300, 92390, 92400, 92600, 92700, 92800, 93200, 93210, 93240, 93380, 93430, 93450, 93800, 94320.

Wodibow
Wodibow is a Spanish brand that offers high quality wooden toys, designed and manufactured in Segovia (Spain), with respect for the environment. Wodibow creates graphic and eco-friendly collections that are distinguished by their design and the use of natural materials.
Discover unique pieces of wood, made of animals and construction toys with which you can challenge your memory, wit and dexterity. Wodibow wooden toys will also make beautiful decorative items for your children's room!

Head office

Wodibow

C/Ponzano 69-71 Local 10
28003 Madrid, Spain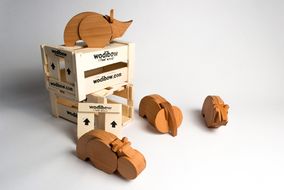 ---
Customer reviews
to help you better choose
Fast shipping
within 48 hours in worldwide