Wudimals
Discover the Wudimals figurines: original hand carved & hand painted wooden toy animals. Made from sustainable wood. 
Wudimals offers a collection of over 100 handcrafted wooden animals. Each Wudimals animal is unique! Wudimals figures are fantastic toys for free and imaginative play. They can be the subject of collections that grow from year to year until they create a complete universe. 
Wudimals is a member brand of One Percent for the Planet: 1% of all global turnover is donated to active, approved environmental and social justice charities who support the maintenance of the habitats in which the Wudimals live. For each order, Wudimals also plants a tree via Ecologi. Thus, Wudimals offsets the carbon emissions emitted for the transport of its toys from its factory to its warehouse.

Head office

K-Play International Ltd.

Staithes Road, Preston

Hull. HU12 8DX

United Kingdom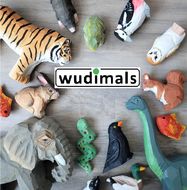 ---
Customer reviews
to help you choose
Fast shipping
within 48 hours worldwide
© Les jouets en bois - All rights reserved 2007-2023