WWF
WWF has been protecting the future of the planet for more than 50 years. Passion, optimism, credibility and inspiration, that's what the WWF plush collection stands for.
We are very proud to contribute to its mission by marketing WWF brand plush toys which are committed to representing animals as faithfully as possible, both in their expression and their position and down to the smallest detail.
The plush toys in the WWF collections are characterized by ethical production. They are all filled with 100% recycled polyester fibers and have the environmental label (Eco) Blue Angel. In addition, factories are certified by the Ethical Supply Chain for Toys and Children's Products (ICTI) program which is committed to improving the lives of workers in the industry through the ethical production of toys according to established standards.
By purchasing a WWF plush toy, you are supporting the WWF Foundation. A timeless plush that can be collected, offered and even becomes a decorative object. Excellent quality, soft and supple, WWF plush toys are always appreciated and very quickly adopted gifts. To cuddle without moderation!

Head office

WWF

Gland, Suisse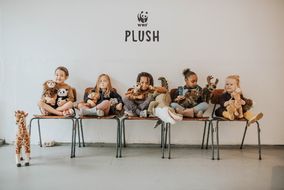 ---
Customer reviews
to help you choose
Fast shipping
within 48 hours worldwide
© Les jouets en bois - All rights reserved 2007-2023