Compte tenu de la situation actuelle, les expéditions de vos commandes se poursuivent. Toutefois, les collectes, les dépôts et la distribution des colis par les services postaux ne se font plus que le mercredi, jeudi et vendredi, allongeant les délais de livraison de plusieurs jours. ATTENTION SUSPENSION DES LIVRAISONS POUR LES CODES POSTAUX SUIVANTS : 92110, 92200, 92230, 92250, 92270, 92300, 92390, 92400, 92600, 92700, 92800, 93200, 93210, 93240, 93380, 93430, 93450, 93800, 94320.

Aero-naut
Aeroplane model construction for professionals & beginners.
In 1922, master joiner Alois Eggenweiler founds a carpenter's shop in Germany. A few years later, he specializes in the field of model making. 
Aero-naut airplanes are well known all over the world as top-class products regarding perfectness and detailness. Aero-naut model kits achive highest expectations of model builders. Not only experts but also beginners will find a wide range of suitable models for their needs. 
Aero-naut airplanes are the Top-Class of model sports!

Head office

aero-naut Modellbau GmbH

Stuttgarter Strasse 18-22

72766 Reutlingen

Allemagne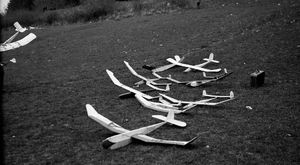 ---
1
Customer reviews
to help you better choose
Fast shipping
within 48 hours in worldwide