Allongement des délais de livraison par voie maritime : 18 jours pour les Antilles, 26 jours pour la Guyane, 28 jours pour la Réunion, 48 jours pour Mayotte, 2 mois pour la Nouvelle Calédonie.

Aero-naut
Aeroplane model construction for professionals & beginners.
In 1922, master joiner Alois Eggenweiler founds a carpenter's shop in Germany. A few years later, he specializes in the field of model making. 
Aero-naut airplanes are well known all over the world as top-class products regarding perfectness and detailness. Aero-naut model kits achive highest expectations of model builders. Not only experts but also beginners will find a wide range of suitable models for their needs. 
Aero-naut airplanes are the Top-Class of model sports!

Head office

aero-naut Modellbau GmbH

Stuttgarter Strasse 18-22

72766 Reutlingen

Allemagne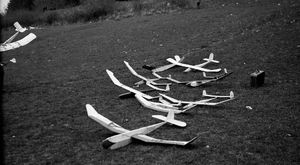 ---
1
Customer reviews
to help you better choose
Fast shipping
within 48 hours in worldwide